Behind Our Fine Jewelry
Since inception, Mejuri has been committed to quality, not only of our products, but of the conditions in which they are produced. We aim to trace each of our pieces from mine to market because traceability allows us to manage and improve the social and environmental impacts of our supply chain.
We've been diligent about choosing partners who align with our values, and as we evolve, we are prioritizing materials that can be fully traced to their source of origin. Sixty percent of our production partners are world-renowned suppliers that are certified by the Responsible Jewellery Council, the international standard bearer for ensuring supply chain sustainability, labor rights and integrity across the jewelry industry. The remaining forty percent are family-run businesses that work closely with us on social and environmental practices to create high-quality pieces.
All of our partners follow our Code of Conduct adhering to measures that ensure fair labor practices, safe working conditions and transparent communication just as our corporate office does.

Our Craftsmanship
We work closely with suppliers, production partners and jewelers from all over the world committed to respect for human rights, health and safety, as well as exceptional craftsmanship, fairly sourced high-quality materials, and sustainable environmental impact.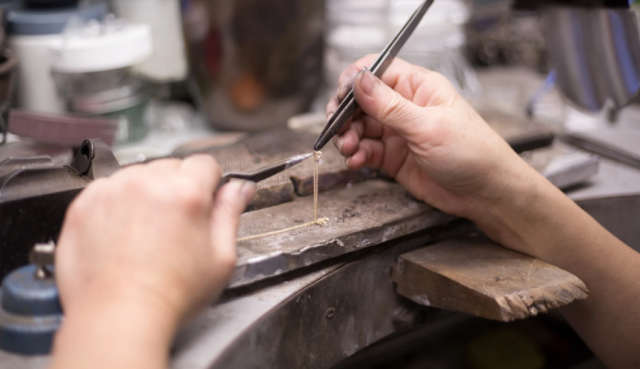 Our local production partners have decades of experience and are based in downtown Toronto, a short distance from the Mejuri Headquarters. Our close connection enables better collaboration and allows us to provide the best quality product with the shortest lead-times.
Our Seoul production partner has been with us since day one. After working with designers from New York, LA, Seoul, Qingdao, and Dubai for decades, our Seoul manufacturers branched out on their own. The Seoul team specializes in sterling silver and gemstones and are members of the Seoul Jewelry Industry Cooperative and the Korea International Trade Association.
Our Italian production partners based in Arezzo handcrafts many of Mejuri's gold chains. The team of talented designers, goldsmiths and technicians aim for the highest ethical standards in supply chain and manufacturing, and hold a Responsible Jewellery Council certification.
Samut Sakhon + Samut Prakan,
Thailand
Our Thai production partners have been in the jewelry business for decades and are among the most accredited and experienced manufacturers in the industry. They are experts in gold and sterling silver manufacturing, as well as in diamonds and gemstones. They are certified members of the Responsible Jewellery Council and Thai Gem and Jewelry Traders Association. The teams participate in weekly sporting events to stay active and meditate together during their lunch hour.
Our partner in Mumbai is considered to be one of the leading innovators when it comes to production techniques. With their stone sourcing team located in Jaipur, they have a robust gemstone supply chain. A member of the Responsible Jewelry Council, they've worked with leading brands and retailers worldwide. The teams in both Mumbai and Jaipur practice yoga together on a weekly basis.