Behind the fine
When it comes to our manufacturing, we vet and partner with top jewelers who commit to exceptional craftsmanship, ethical practices and the finest materials.
We only produce in small quantities. Not because we like waitlists, but because we firmly believe in quality over quantity. While we challenge the way we introduce high-quality pieces with weekly drops, we can't—and never will—change the traditional process of making fine jewelry. Our pieces are handcrafted like the olden days, but designed for the golden days ahead.

Our factories
We manufacture all over the world. Why? Because we only work with the best, no matter where they are, so we select our partners based on specialty and work directly with them.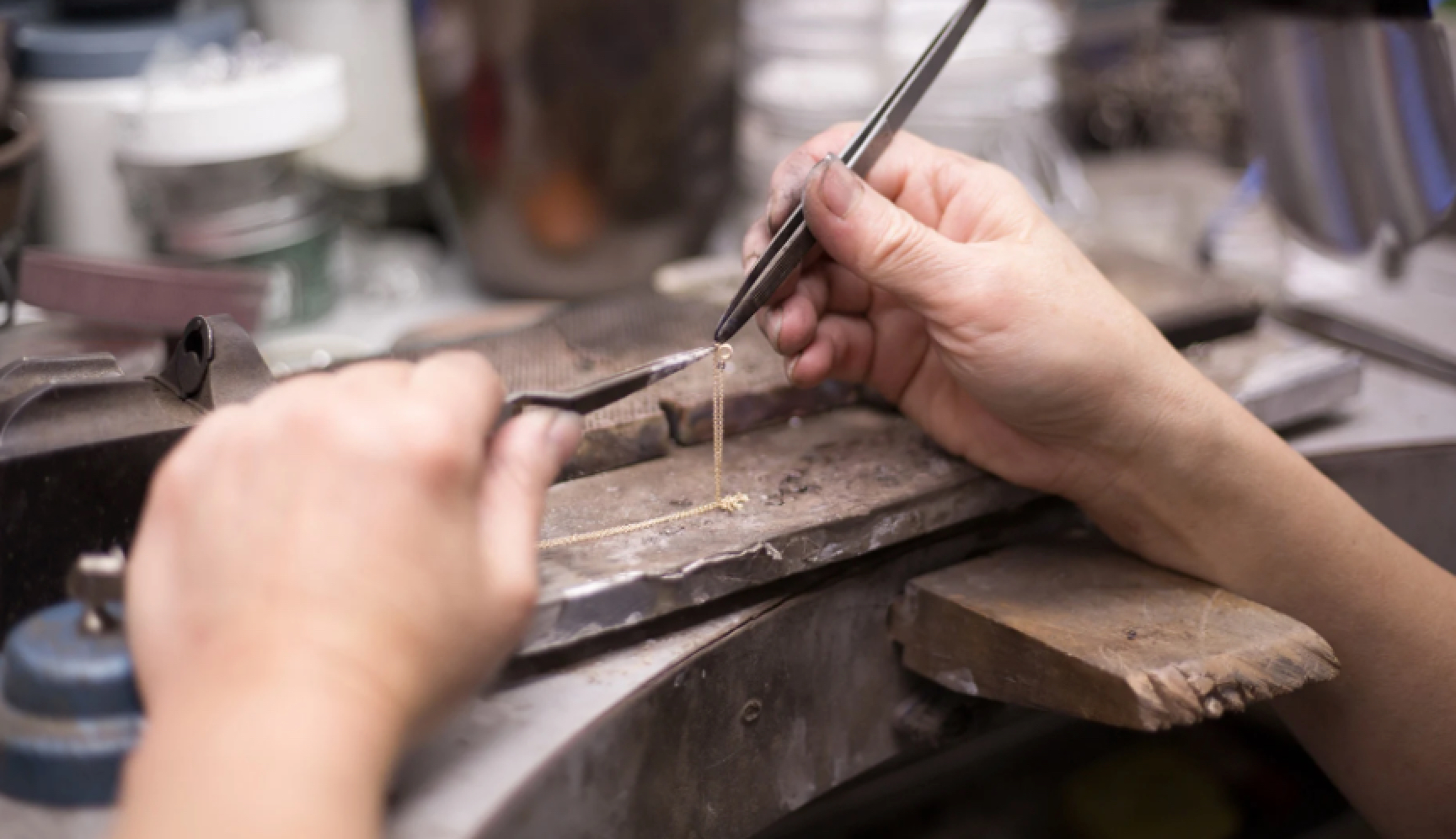 Toronto, Canada

Our local manufacturers have decades of experience and are based in downtown Toronto; a short distance from the Mejuri Headquarters. Partnering with a local manufacturer allows us to keep our connection close, enabling better collaboration. Our goal is to provide the best quality product with the shortest lead-times.

Seoul, Korea

Our Seoul partner has been with us since day one. After working with designers from New York, LA, Seoul, Qingdao, and Dubai for decades, our trusted jewelry manufacturer branched out on his own. He founded his own manufacturing company in 2004, specializing in sterling silver and gemstones. Shortly after opening, he expanded the factory to the nearby city of Iksan, the jewelry hub of Korea. He is a member of the Seoul Jewelry Industry Cooperative and the Korea International Trade Association. The team based in Seoul have lunch together every day and have monthly team-building events.

Arezzo, Italy

Our Italian manufacturer based in Arezzo is to thank for many of the gold chains in our collection. With a team of talented designers, goldsmiths, and technicians, they have become a trusted supplier who we are proud to partner with. They aim for the highest ethical standards in supply chain and manufacturing, holding a Responsible Jewellery Council certification.

Samut Sakhon + Samut Prakan, Thailand

Our Thai manufacturers have been in the jewelry business for decades and are considered to be the most accredited and experienced partners in the industry. They are experts in gold and sterling silver manufacturing, as well as diamonds and gemstones. They are certified members of the Responsible Jewellery Council and Thai Gem And Jewelry Traders Association. The teams participate in weekly sporting events to stay active and meditate together during their lunch hour.

Mumbai + Jaipur, India

Our partner in Mumbai is considered to be one of the leading manufacturers of innovation and manufacturing techniques. Having their stone sourcing team located in Jaipur, they have a strong supply chain for various types and sizes of gemstones. A member of the Responsible Jewelry Council, they've worked with leading brands and retailers worldwide. The teams in both Mumbai and Jaipur practice yoga together on a weekly basis.