BOOK A COMPLIMENTARY STYLING APPOINTMENT
Whether you need some golden advice or a whole new look, our stylists are here to help you step up your stack—both in-store or virtually.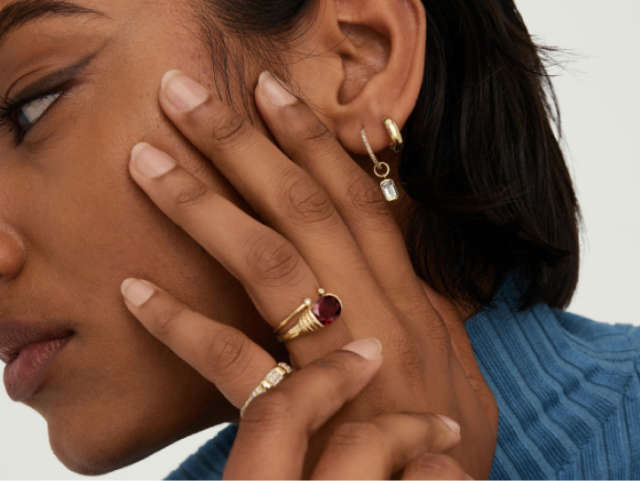 This uninterrupted time is all about you. Whether shopping for yourself, your big day, or someone special, we'll deep dive into your needs and wants to nail down the perfect pieces for any occasion.
Personalized & Curated Styling
Explore our full collection and receive special tips on stacking all the styles you're eyeing with a 360-degree view. Plus, we'll show you how to care for your pieces properly, so they last.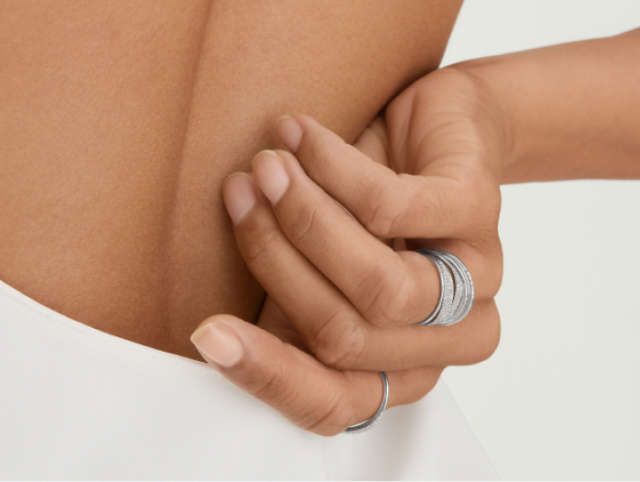 We've got you covered. There are no hidden costs or spending limits—all you have to do is show up ready to explore and ask questions, and we'll take care of the rest.
We offer virtual and in-store styling appointments at your convenience. Our virtual sessions are open to all areas we ship to. Our in-store styling appointments are currently only available at select stores.
Not located near a Mejuri store or prefer to shop online? Receive the same complimentary experience virtually. Video chat with a stylist for help with sizing, stacking, and a 360-degree look at all your favorite picks.


Book now
Need help crafting your perfect stack? Book a complimentary styling appointment for a personalized experience, including product recommendations and advice on ways to layer them. Walk-ins are available based on availability.


Find your store
FAQS
How do I book an appointment?
Virtual and In-Store Styling appointments can be booked here. Our appointment availability is always up to date - if you do not see any open slots for your preferred day or time, check back for more availability.
Please note that you can cancel or reschedule your appointment at any time via the booking confirmation email at no charge. We will also send a reminder email before your appointment, and you can cancel or reschedule at that time if needed.
How does the process work?
Virtual: Pick a day and time that works for you, complete the intake form, and we'll email you a Zoom link the day of the appointment. Each session is about 15 minutes long, so we recommend browsing our site ahead of time to pick out any materials or styles of interest. *We have a 5-minute grace period. If you join the call more than 5-minutes after your appointment start time, we will be unable to accommodate your styling appointment.
In-Store: Pick a day and time that works for you, complete the intake form, and we'll send you a confirmation email with the store details. Each appointment is about 30 minutes long, so we recommend arriving 5 minutes before your appointment so you can settle in. Each store will have a designated styling area or room identified with signage where you can check in with a team member. *We have a 10- minute grace period. If you arrive more than 10 minutes after your appointment start time, we will be unable to accommodate your styling appointment.
What topics can be covered in a Virtual or In Store Styling appointment?
Our stylists can help with almost anything product related. Whether looking for your first piece, adding to your existing collection, or shopping for a special moment, we're here to share all of our stacking, sizing and product care tips tailored to you.
How will the Jewelry be presented?
Virtual: Our stylists can show you pieces on-camera or try them on to give you an idea of what it might look like IRL.
In- Store: Our stylists can show you pieces and help you try on any of your favorites to find the perfect stack.
What Jewelry will be presented?
Our full collection is available to showcase, including our latest Monday Drops and bestsellers. We will curate a personalized assortment of pieces for you based on your in-take form, existing jewelry collection, and material and style preferences.
What health and safety measures are being taken in the store?
The health and safety of our customers and staff are our first priority, we aim to ensure the health and safety of those around us. These are the protocols we currently have in place:
- Each of our stores follows their Province or State's latest COVID-19 safety guidelines and is approved to operate by the local health authority.
- We sanitize all surfaces within the styling area and jewelry between each client.